Welcome to Rehrig Chiropractic & Wellness Center
Your Media Holistic Chiropractor & Nutrition Specialist
For more information or to schedule an appointment with our Media chiropractor,
call 610-566-9040 today!
THE TRIANGLE OF HEALTH & WELLNESS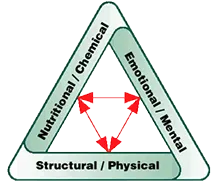 The triangle represents the basic elements that make up the basis for your state of Health. It is the guiding principle of our practice.
Each individual side of the triangle affects the other two sides, and so our goal is to bring all three sides into optimal balance.
Structural / Physical – relates to the importance of maintaining integrity of body balance and physical functionality.
Nutritional / Chemical – relates to the importance of fueling the body with correct nutrients and with protecting the body from toxic substances.
Emotional / Mental – relates to the inseparable mind-body connection. Our office atmosphere is like "one big hug" that permeates from the caring nature of Dr. Rehrig and his staff.
OUR MISSION
To help as many people as possible lead healthier and happier lives through a natural and holistic approach to their health and well being.
Please Note: If you are new to seeing a chiropractor and want to find out more, or even if you are already seeing a chiropractor for your adjustments but you are looking for MORE, please email us or call 610-566-9040 to receive personalized answers to your questions from our friendly team.
Dr. Dennis Rehrig
Media Chiropractor | Rehrig Chiropractic & Wellness Center | 610-566-9040
200 East State Suite 104
Media, PA 19063